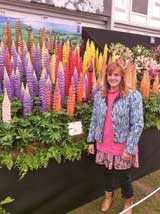 WELCOME TO OUR PLANT NURSERY WHICH ALSO HOLDS THE NATIONAL COLLECTION OF LUPINS
Welcome to our plant mail order site for the UK, a plant nursery not a garden centre or supermarket. We take great pride in our packing and quality of plants so please order with confidence.

Orders are sent out all year round but not bank holidays or other public holiday periods.

Appointments may be made for collection of plants - we are open 10am - 3.30pm Monday to Friday from 7th March till end of June for this purpose. (closed 1-1.30pm)

ALL PLANTS ARE SENT OUT IN 9cm pots. The time of year sent out to you will clearly affect how large these plants can be on despatch - many will be dormant until at least mid April having had little chance to put on much growth and therefore be small on receipt. If this is not what you are looking for, please go to a garden centre where they may well be larger but will have nothing like the range. None of our plants will be taller than 30cm, many will be a lot less due to restrictions of packaging, weight and practicality. However they are well rooted and ready to plant out. Young plants will always establish better. Heights given are eventual height of mature plant. We aim to turnaround plant deliveries within a couple of working days but you can advise us of your preferred date for delivery if you wish when you place an order.

IF YOUR ORDER (over 3 plants) HAS NOT BEEN DELIVERED WITHIN 48 HRS PLEASE CONTACT PARCELFORCE www.parcelforce.com and enter your tracking details given in the email to you when we depatched your order. We have further details on our site under our MORE INFORMATION section. (postal rates and contact us page)

Our prices are keenly competitive and the packaging is specially made for our plants. If there is some damage externally it will be due to the rough handling of RM or Parcelforce, not our packing or boxes. Even then, it is rare for the contents to be damaged.

Donkey Meadow, Woolsery, Bideford, Devon, EX39 5QH

We hope you will find lots of plants of interest - herbaceous perennials, lupins, lupins from seed,flower seeds and plants,trees, clematis, climbers, bulbs and corms, polyanthus, primula, fuchsia, alpines, ferns and grasses.

We stock trillium, dicentra, allium, dierama, clematis, pulmonaria, geum, geranium, brunnera, astrantia and aquilegia amongst a large range of plants. Buy from us now!

We have an excellent track record with over 18 years of growing experience and are also Chelsea gold medallists (2010, 2013 and 2015) and Gardeners' World Live in 2008, 2012 and 2013, won for our now infamous lupin displays at the Royal Horticultural Society flower shows.

CHRIS BEARDSHAW USED LUPINUS MASTERPIECE IN HIS GOLD WINNING DISPLAY AT CHELSEA 2013 and Lupinus 'Masterpiece' was used extensively in all the Chelsea Gardens 2015, even as a backdrop for the BBC presenters. Rachel de Thame also used it for the Royal Barge in 2012.


We grow all our own plants and breed all our lupins and are primarily a mail order business and therefore unable to take calls.

Sarah Conibear, Chief Happiness Officer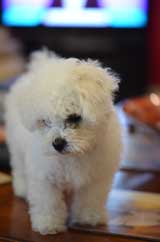 Gracie's Mutt-erings
Have a look at our new blog by the resident Bichon Frise puppy and complete time waster ruling the roost. You can follow it by using this site.
http://www.bloglovin.com/onboarding

http://westcountrynurseries.blogspot.co.uk

LATEST NEWS
Follow our progress in the new BBC Amateur orchestral competition All together Now, The Great Orchestral Challenge, in which I play first clarinet with North Devon Sinfonia. Due to be screened on BBC4 Tuesday August 30th 9pm for 4 weeks and repeated on BBC2, the winner will play in Proms in the Park!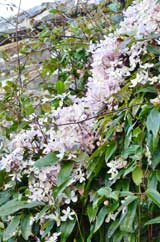 We have a large selection of clematis for sale
PICTURE - Clematis armandii 'Appleblossom'- a very popular evergreen variety flowering in late winter, early Spring (late March onwards).

Any queries must be made via email as we are unable to take calls.

Items listed on the website should be available now but at busy times we may run out of stock before having time to remove them. We ask for your understanding on this matter.

ALL text/ Pictures copyright Sarah Conibear 2016

WE DO NOT OFFER TRADE PRICES or DISCOUNTS ON ANY ORDERS as our prices are very competitive

WE DO NOT SEND ABROAD or over any stretch of water other than exceptions listed under More information tab at top of page under postal rates.

ROTATING BANNER - Meet our family of Bichons - Megan, sadly missed - died 020514, Charlie Brown, Izzy, Rupert and our latest addition Grace and the donkeys Freddie, Sally, Daisy and Dillon.

"What wants to blossom in the garden, will blossom" Johannes Brahms
"Write it on your heart that every day is the best day of the year" Ralph Waldo Emerson

FOR YOUR PEACE OF MIND:
Our site is protected with a thawte SSL certificate (encrypts the information as it travels from your computer to ours)


AND we are certified with the PCI DSS (payment card industry data security standards)