Hotter than 1976
It has been a challenging year in the garden. A bitterly cold winter with two deep snow falls, followed by a delayed spring and then a glorious summer. It has been the warmest and driest summer since 1976 but my plants are suffering.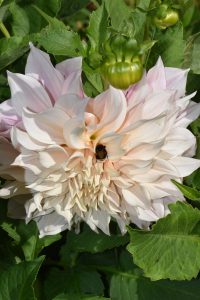 Everything is so dry
The garden is so dry, the flowering season has been compressed. Roses flowered early but there are few new buds and my sweet peas have put on their worst display ever. Stunted growth and barely a flower. A colleague planted hers early and was rewarded with a fabulous display. This autumn I will follow her example and sow sweet peas in the greenhouse ready for planting out in spring.
Weeds are thriving
At the nursery it is too hot to work in the polytunnels so I have been finding jobs to do in the shade. There's lots of weeding to be done – why don't weeds mind the lack of water? And, the watering is endless.
Targeted watering
With the threat of hosepipe bans across the country I have been careful with my watering, targeting those plants which need it most. I only water in the early morning or in the evening. But despite regular watering many plants have wilted and been spoilt.
Hot weather stars
Some plants are thriving in the hot weather. Agapanthus, with its gorgeous spikey flowers has been a star. So too have the pelargoniums.  I particularly like Pride of Exmouth with its rich, red blooms. Another flower which can tolerate the dry conditions is Zaluzianskya which is originally from South Africa.
Grow grasses
If you want to be sure of what to plant in dry conditions, plant grasses. There are so many varieties and they come in every shade. Not only do they give colour and shape to a garden they also move in the breeze so the vista is always changing. Particular favourites include Carex Comans Dancing Flame, a must for any garden.
Gardening tips – Keep watering where you are able to.  If you are in a drought area concentrate on your flowers and vegetables, the lawn will recover as soon as it rains.  Weeds need to be kept on top of as they are setting seed and one seed head can mean at least 100 weeds next year,
#pelargoniums #roses #sweet peas #1976 #grasses #summer #sunshine #drought #agapanthus