Spring, sun and birdsong
Finally we have some sun after what seems the longest and wettest winter ever.  As I stand outside the lush, thick grass is growing although the ground is still too wet to risk the lawnmower. A blue tit is busy building his nest in the Lidl birdhouse (recent birthday present from a friend) outside my office window. She is thrilled he has already occupied her des res present. Today I have watched as he has been chipping away at the opening, removing the decor to his own taste. I wonder why. Blue is after all his colour.  Bumble bees are taking advantage of the first nectar of spring.  There is a welcome warmth on my back and the dirt under my fingernails is a welcome sign that I have been sowing seeds ready for the months to come.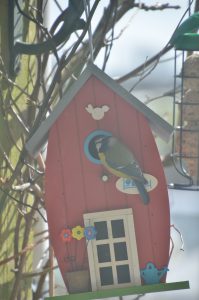 There are welcome shades of green in the hedges from the early hawthorn and the garden is springing to life.  The first delicate pink blossom is out on the cherries, purple aubretia is tumbling down the rockery and faint tinges of colour can be seen on the tightly closed tulip heads, a premonition of their glories to come.  Daisies are dotted across the lawn and the first magnolias are parading their ostentatious blooms.  They are such transient plants I can't begrudge them their show boating.
In shady areas hellebores and cyclamen cover the ground, their beautiful creamy, yellow and purple heads a haven for early bees.  Elsewhere vibrant orange, pink and purple polyanthus compete to give the most colourful display.
In the greenhouse lobelia seeds are under glass and the first spring sown sweet peas are nestling next to their autumn planted sisters.  Last year's dahlia tubers have been given re-potted and given their first drink.  I never sow them direct into the ground because I forget where I have put them and find myself hoeing their emerging tips in a spate of over-enthusiastic weeding.  It seems much better to start them off in a pot and then to transfer them once you can see what you are doing.
Inside ladybirds have woken up from their wintry hibernation and need to be coaxed out of open windows into the garden where they will be a defence against the unwelcome greenfly later in the year.
Preparations for Malvern Spring Flower Show 10th – 13th May
We are well underway – we have lots of different varieties of Epimedium, Geum, lupins and other herbaceous perennials on the go. The display lupins finally have some buds and the warmer days are pushing on growth at a rapid pace.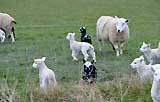 In the adjacent field the wild daffodils with their dainty lemon-yellow heads are dying down, their heads swelling with seed. My huge tubs of mixed daffodils from Scamp in Cornwall are resplendent on the verhanda despite the changeable weather. A little battered but so vibrant and colourful. Young lambs born in the farm next door are gambolling in the fields, tearing round as fast as their spindly legs will allow, playing king of the castle, taking it in turns to knock each other off the coveted highest spot.
Things to do this month:
Sow vegetable and flowers seeds in a greenhouse or cold frame; plant onions, garlic and early potatoes; plant spring bedding plants to bring welcome colour
#spring #daffodils #lambs #tulips #dahlias #magnolia #hellebores #gardening #flowers #
https://www.facebook.com/WestCtryNursery/
https://twitter.com/WestCtryNursery