The garden is heady with the heavenly scent of summer flowers. Foremost among them are the honeysuckles. They are at their best in the evening and have been truly magnificent this year. Their perfume is really intense and the bees love them.
Summer flowers so easy and colourful include Astrantia and Perlagoniums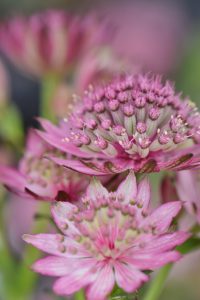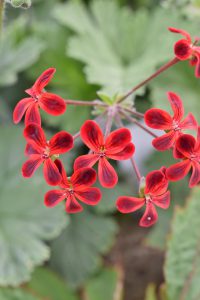 Busy Bees
The bees are also adoring the Philadelphus, another summer favourite with its white blooms and orange blossom fragrance. If you are lucky enough to have Lime trees you will notice they too are attracting bees. Mine have so many bees on them the whole trees are vibrating.
Tulip trees worth the wait
Another tree with flowers this month is the liriodendron or tulip tree. Its delicate light green and orange blooms are glorious even though you have to wait 25 years after planting for the first buds to appear. The blooms only last a week or so, but they are worth the wait.
Old fashioned roses
The roses are putting on a tremendous display. The borders are awash with colour and I love the perfume of the old fashioned varieties. They might not last as long as their modern cousins but I'll take scent over longevity.
Another sweet-smelling favourite is Syringa with its profusion of white and purple flowers.
The Lupins are still flowering and if you deadhead them in time they will send forth a second spike to give you flowers for the next month. 'Manhattan Lights' is a particular favourite of mine….
Complementing the lupins are the taller, majestic Delphiniums, especially the deep rich blues and purples. Delphinium Black Knight is a particular favourite of mine.
Thyme the thug
One plant I have been ruthlessly culling is thyme. It is a lovely aromatic herb but this year it has outgrown the herb garden and is putting in an appearance in my flower beds, crowding out the plants I want to see. It has become a garden thug and needs to be dealt with. As I cut it back its wonderful aroma joins that of the other flowers.
Gardening tips – The foliage of daffodils, tulips and other flowering bulbs can be cut down now. Keep deadheading roses to prolong their flowering period. Plant out annuals and summer bedding. Start sowing seeds for next year's flowers including wallflowers, sweet Williams and polyanthus.
#lupins #delphiniums #scent #roses #summer #bees #thyme #honeysuckle