Autumn has arrived
The days are shortening and there is a nip in the air in the mornings which is a sure sign autumn has arrived. However, the flowers are not over yet. The roses and dahlias are giving me a tremendous end of season display. Their crimson, orange and creamy yellow blooms are providing patches of intense colour. They withstood the recent gales and are still standing proud.
Below them swathes of cyclamen nod in the breeze. Their gentle, ground-hugging lilac and white petals carpet the borders. You can plant cyclamen now for a display next year. I particularly like the pretty pink Hederifolium AGM.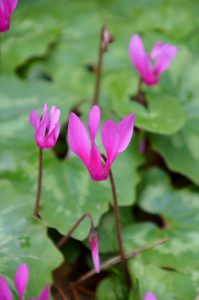 Philadelphus or mock oranges are flowering for the second time and I adore their heavenly scent. It is particularly strong in the early evening.  I still have buddleias in flower too.
Visual treat
Outside the garden cornflowers are growing wild in the verges. Speeding car drivers miss these delicate flowers but walkers, cyclists and blackberry pickers are in for a visual treat.
It is time to plan for next year. A flower to plant now is the anemone. My favourites are 'Blue Eyes' with its beautiful blue centre which appears a few days after the flowers open and 'Nemorosa Robinsoniana' which is a delicate lilac.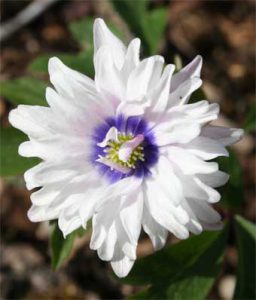 I have also planted some sweet peas which will spend the winter in the greenhouse. I am hoping to give them a head start so I get a good display of flowers next summer.
Harsh winter to come?
My crab apple trees are laden with fruit. The pyracanthas and rowans are dripping with bright orange berries. According to folklore an abundance of berries is a sign of a harsh winter to come. I hope it is not going to be as bad as last year. I am sure we have all had enough snow.
We're still not experiencing much rain and although most of my lawn is emerald green again there are still brown bare patches. I am leaving them be, as grass is resilient. I am sure it will recover over the winter.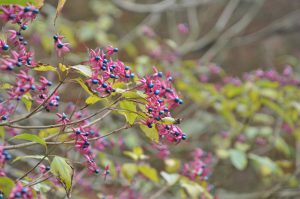 Gardening tips – Remove dead and dying foliage.  Keep dead heading flowers to prolong displays.  Plant daffodil bulbs for a spring display.
#autumn #roses #dahlias #cyclamen #mockorange #anemone #fruit #pyracantha #buddleia